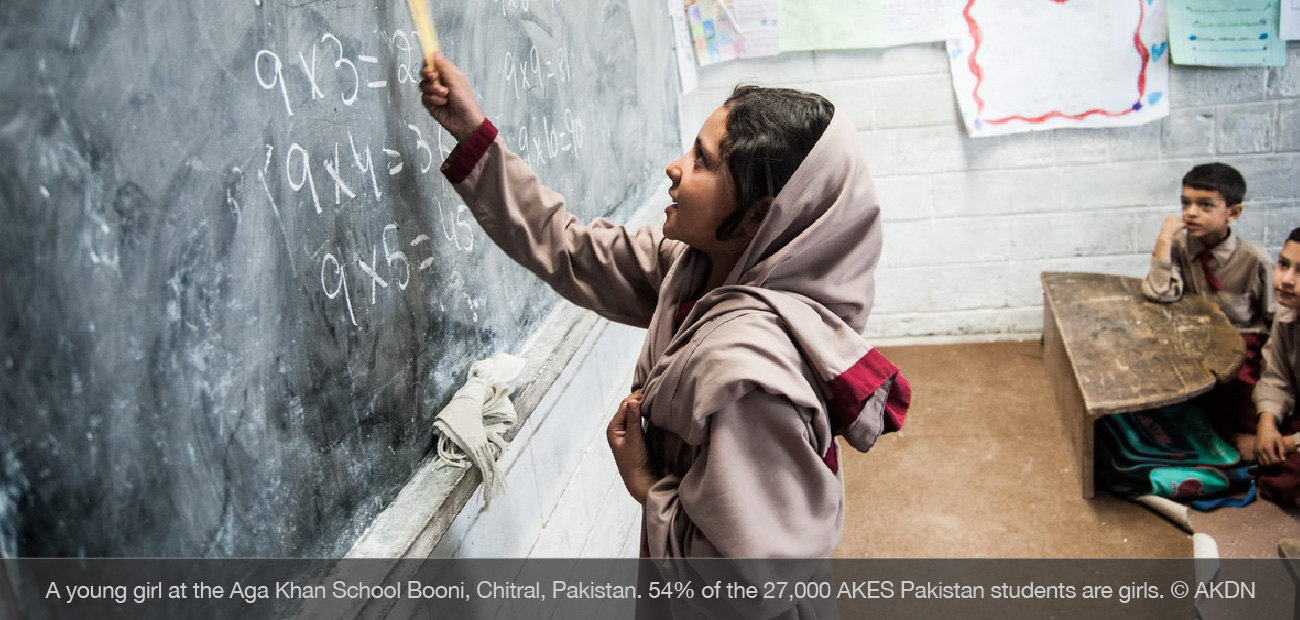 Responsibility to Others
A hundred years ago, women gained the right to vote in the UK. The engagement of women in civil society through participation in elections was a momentous victory for over 8 million women.
As is often the way, one step leads to another. Women soon had the right to stand for election, take maternity leave and receive equal pay.
The freedom to participate in decision making is a hard-won privilege in many parts of the world, and it comes with great responsibility. A century on, it is our obligation to engage proactively with civil society.
We owe this to our heritage and to our future generations.
Panorama
Mawlana Hazar Imam visits India
As part of Mawlana Hazar Imam's Diamond Jubilee, he is visiting India for 10 days. Invited by the Government of India, he was received by Shri Sanjay Verma, Chief of Protocol and Shri Deepak Mittal, Joint Secretary upon arriving in Delhi. Mawlana Hazar Imam's visit to India has so far included inaugurating the Sunder Nursery, meeting Prime Minister Narendra Modi and spending time with the Jamat. Mawlana Hazar Imam will also be visiting Ahmedabad, Hyderabad and Mumbai. Read more »

Inauguration of the Sunder Nursery, New Delhi
Mawlana Hazar Imam and the Vice President Shri M. Venkaiah Naidu inaugurated a 36 hectare park in New Delhi. The Vice President said the Sunder Nursery project was a model of public private partnership, combining the elements of "nature, culture and the future"as a "great addition to the capital". The ceremony was attended by senior government officials, ambassadors and foreign diplomats, as well as leaders of civil society organisations and residents from the surrounding neighbourhood. Read more »

The World of the Fatimids
The Aga Khan Museum in Toronto launched its new exhibition entitled 'The World of the Fatimids'. The exhibition sheds light on one of history's most intriguing and vibrant civilisations. At its height in the 10th and 11th centuries, the Fatimids influenced thought and life throughout the Mediterranean, Southern Europe, and the Near East. Henry Kim, Director and CEO of the Museum said, "the exhibition offers a rare opportunity not only to admire Fatimid art but also to understand what life would have been like in this lively, diverse, and tolerant society." Read more »




AKDN on Instagram


AKDN is engaged at all levels of education, from Early Childhood Development through to University. In Afghanistan, nearly 250,000 students and 7,000 teachers benefit from AKDN education activities. The Network pays special attention to educating female pupils and supporting female teachers.

You can learn more about the work and impact of AKDN's institutions by following
AKDN on Instagram »

Diamond Jubilee Reflections
"...the best of charity, in Islamic terms, can go beyond material support alone. It can take the form of human or professional support, such as the provision of education for those otherwise unable to obtain it, or of the sharing of knowledge to help marginalised individuals build different and better futures for themselves ..."
– Mawlana Hazar Imam, Pakistan, October 2000

The greatest asset we have as human beings is intellect and we have a duty to use this for the betterment of society and the community. Consider how we can best do this, from providing our expertise to someone, or giving up our time to help someone that needs us.
Mind & Body



Book of the Month


To Kill a Mockingbird – Harper Lee
A Pulitzer prize winner, this book tells the story of a 1930s racially divided town in America. Lawyer – Atticus Finch – takes on a trial against the advice of his fellow townsmen. How will it turn out and will it change racial attitudes?
Learn More »


Healthy Living


Research has found that people who are constantly bombarded by e-mails and phone calls experience a 10% drop in IQ levels. Eating well, staying organised and practising mindfulness can help to keep your brain razor sharp.




Quote of the Month


"Before I can live with other folks I've got to live with myself. The one thing that doesn't abide by majority rule is a person's conscience."
– Harper Lee in 'To Kill a Mockingbird'



Exploring the Value of Education
The Nottingham Seniors Club hosted a Diamond Jubilee workshop reflecting on the power of education to transform lives. They explored how one might use one's own learning to better understand the world around them, and to benefit others.

The audience were invited to share their own educational journeys. Stories were recounted with some nostalgia, from as far and wide as primary school in Soroti; secondary school in Salamieh; and higher education in Moscow.


From Engineering and Consulting to a Natural Chef and Entrepreneur
Adria Wu, founder of Maple & Co, a café chain offering a menu of healthy foods and drinks, shared her thought provoking story as part of AKYSB's Stories on the Rooftop series, in collaboration with WAP.

Adria shared her inspiring and unique journey, including what motivated her to change career; how she has built a brand around values, ethics, and investing in people; how nutrition supports living a more successful and balanced life and sharing hints and tips on how to turn something you love into a business.


Giving the Gift of Time


A group of young adults spent a morning learning about the meaning and significance of Nazrana. Participants were able to learn about the concept of Nazrana through history to the present day and what it means to give this gift. Speakers included people who had rendered Nazrana in various parts of the world. They talked about the process from rendering their gift, to fulfilling their pledge and answering questions from the audience.






Is Artificial Intelligence the Future?


Artificial Intelligence is impacting a number of areas in our society including gender diversity, wealth inequality and the ethical choices we make. In addition, it stands to create challenges and opportunities for jobs, the economy, medicine and education.

Click here if you missed the recent Diamond Jubilee lecture in which Alan Winfield, Professor of Robot Ethics at the University of the West of England and Alnoor Bhimani, Professor of Management Accounting at the London School of Economics, led a thought provoking discussion exploring these issues.




Leadership in Europe


Leaders continue to develop best practice in Scandinavia. Senior volunteers from across the jurisdiction continue to meet regularly to review ways of working and areas of focus.

The Jamat in Europe continues to grow and this means the needs of families and individuals from within the jurisdiction Jamat continues to evolve. It is hoped that with ongoing team work across the institutions, together with the generous support from all members of the Jamat, we will be able to make progress towards meeting identified needs.




The New Circle Club – Open for All




Earlier this month, Reading Jamatkhana launched a new Circle Club; a club open to all ages for the benefit of everyone. Active participation from across all segments of the Jamat contributes to the success of this, and other similar clubs, which facilitates interaction and the sharing of stories and experiences. Activities at the Circle Club will be family-centric and will seek to promote physical and mental well being, as well as combat age discrimination and dispel age-related stereotypes.
Society
Being Ourselves
Every 25 seconds a child calls Childline. As many as 1 in 5 children and adolescents may have a mental health disorder, and yet mental health can still carry a stigma which prevents people from talking about their difficulties.

The theme for this year's Children's Mental Health Week was #BeingOurselves; a celebration of what makes us unique and individual. Children were able to open up and talk about what concerns they have and schools launched campaigns to encourage everyone to spread a little kindness. For more information click here.

Time to Spring Forward
At the end of this month, the clocks will 'spring forward' as we lose an hour of time. The idea was first suggested by Benjamin Franklin in 1784. However, moving clocks twice a year only started in World War I as a way of conserving energy for war production. Today, approximately 70 countries participate in moving clocks, and equatorial countries don't change their clocks at all. Advocates for moving clocks suggest that longer daylight hours means less crime and less consumption of energy.
Winter Olympics
The Winter Olympics were held in PyeongChang, South Korea. The Winter Olympics started in 1924 and continue to grow every year. This year the games featured 102 events in 15 sports disciplines, including the addition of big air snowboarding, mass start speed skating, mixed doubles curling, and mixed team alpine skiing. A total of 2,952 athletes from 92 National Olympic Committees competed. At the time of going to press, Norway were in the lead with an impressive 26 medals!
Ethic of the Month: Self Reliance
"Give a man a fish and you feed him for a day; teach a man to fish and you feed him for a lifetime."
One aim of AKDN's work is to help people move beyond dependency and become self-reliant. The same ethic discourages a culture of dependency because, over time, dependency can undermine a person's dignity.
Subscription Information

You are receiving this email because you have subscribed to the Ismaili Bulletin. The Ismaili Council for the UK is not responsible for the content of external websites/links that may be accessed through any of the content contained hereto.

To unsubscribe, please click the unsubscribe link below and your e-mail address will be removed from this list. If you have friends and family who would like to receive the Ismaili Bulletin they can subscribe by clicking here.